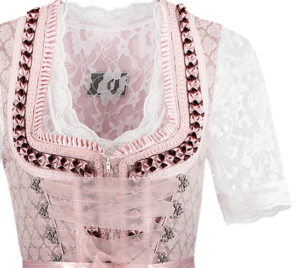 Same like every year we have put in a lot of effort to develop lovely new Trachtenmode/bavarian garments again. OUr 2023 programme will be extended with several newly designed dirndl dresses, Lederhosen, jewelry, but also shirts, shoes and hats.
We are convinced that our customers will sell these equally successfully as our other products from the past seasons (as we have had numerous positive reactions as well as compliments 😉)
Some examples:
Despite Covid-19 even in 2021 and 2022 we have expanded our programme with various new designs that have proven their success through huge sales numbers.
Due to our favourable price-ratio, fast deliveries (only to shops/dealers!) and direct communication the demand for our is growing rapidly.
We expect to be able to welcome new customers again this year, as we aim to please and help our customers. Our customers can fully rely on us for 100%.
In case you are interested in our garments, please allow us to inform you (no strings attached). You won't get any "pressure" from us, deliveries during the peak season are normal for us and will take place within 12 hours etc. etc.
We look forward to hearing from you!